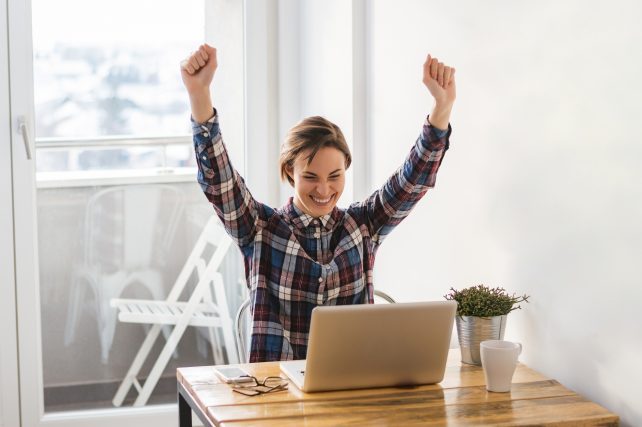 5 Job-Search Hacks to Boost your Chances of Landing your Dream Job This Year
Finding a new job is a process ─ and a hard one at that. Whether it is a desire for something new or circumstance that has you back on the job market, the process is pretty much the same for everyone. First, you scour the job boards looking for something that piques your interest or is in your field. Then, you craft your cover letter and resume, sending them out to dozens, if not hundreds, of potential employers. If you're lucky, this may lead to a couple of interviews and, hopefully, a job offer. All the while, weeks (or months, and in some cases years) have gone by, leaving you stressed, uncertain, and likely pretty irritable. It makes you wish there was a better way.
Fortunately, there is.
While searching for a job isn't exactly a science, there are best practices that job seekers can employ to stack the deck in their favour. And while there will still be a fair bit of legwork involved, if you follow these tips, you can make 2018 the year you start your dream job.
Know exactly what you want – and what you have to offer
As the saying goes, "the devil is in the details," and truer words have never been spoken when it comes to searching for a job. Before you even begin, it is best to set up some guidelines, and you can do this by asking yourself a few honest questions.
Are you looking for a new job or are you transitioning into another field?
What are your basic salary and benefits requirements?
Other than remuneration, what really motivates you? What are your core values?
What makes you great? What specific skills and attributes are you known for?
Based on the above, what industries and companies would be a good fit?
These simple questions, when answered honestly, will help narrow down your search and ensure your time and effort are better focused and well spent.
Make finding a job your job
Every day, qualified candidates miss out on opportunities because they simply didn't apply fast enough. To ensure you are ahead of the pack, make the job hunt a job in itself ─ set up a daily schedule / block of time when you work on your job search and nothing else. This applies even if you are currently working ─ although admittedly, the time you will be able to devote will likely be a bit less. If so, don't be hard on yourself. Even if you only send out one resume a day but it is a newly-posted role, you will still be one of the first applicants to get the recruiter's attention… and that is worth more than sending 20 resumes out late, when others applicants are already in the interview process.
Craft interesting stories
As a fact of human nature, people remember stories more than they remember facts and figures. While your resume should definitely include numbers that quantify your achievements, you should also come up with a humorous (but always truthful) story or two to tell during the interview. Make sure it is work-related and demonstrates one of your stronger qualities, but also inject a little personality. It's a great way to stand out from the crowd and leave a positive, lasting impression.
Prepare your references
This goes above just having references. Rather, you need to realize how much weight a good reference can carry and, as such, prepare and coach your references on what to say about you. Again, this should always be truthful; however, a good – and prepared – reference can often make the difference in a hiring manager's mind.
Throw away your "cookie cutter" resume
When it comes time to fill an opening, hiring managers will often see dozens, if not hundreds, of resumes, and most will look about the same. To stand out, make an effort to create something visually unique, while still professional, that will stand out from the rest.
Most importantly, tailor your cover letter and resume to each position, making sure to highlight your qualifications as they relate to the specific job you are applying for. Remember ─ it is always much more effective to take the time and prepare a couple of truly relevant, customized resumes that reflect exactly what the employer is looking for than to send out dozens of generic resumes that don't.
Ready for your next career move? Quantum has been working with top talent and some of the most sought-after employers for nearly half a century. Search our current listings today – you might find the one you've been waiting for.